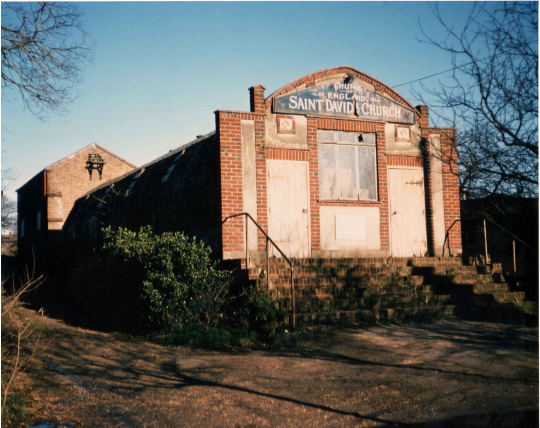 The Original Mission Building
In the Beginning
(edited from text by Stan Towler)
The modern church building which is St. David's Eastwood was consecrated in May 1966. The church was built to replace the Mission Church, a Nissan Hut type of building which had been built on to an older barn. (See  picture)  The Mission Church had been dedicated in 1949 by the Bishop of Colchester and was ministered by St Laurence Church.  As the church grew funds were raised to provide a permanent church, in 1961 St David's was created as an Ecclesiastical District.  The Rev Nugent was installed as Priest in Charge, Mr Towler and Mr Horner were the first Church wardens.
The new PCC and the Building Committee worked hard and made many visits to other Essex new churches to glean ideas for our own building.  In May 1965 grants for the finance were secured, the architects plans were approved, the builders estimates agreed and the foundation stone was laid by the delighted Bishop of Colchester.
The year 1966 came and the parish watched the new church gradually taking shape, the excitement was likened to children waiting for Father Christmas.  At last the building was complete – a glorious new church – the fruit of the labours of many excited Christians.  The Church was consecrated in May by the Bishop of Chelmsford.  The Rev Eric Nugent was now the Vicar of St. David's Eastwood.